Children's Dentistry Near You
At Lighthouse Dental, our team is happy to treat children and provide them with quality, fun, and educational preventive dental care that sets them up for oral health success later on in life.
We understand how important these early appointments are, which is why we do everything possible to help children feel comfortable and at-ease each time they visit us! To schedule an appointment for children's dentistry in Vancouver City, call our dental office today.
Dental Checkups & Teeth Cleanings for Kids
Our Vancouver City dental office regularly cares for the dental needs of children as young as three years old. However, if you notice that your child has a problem with their teeth or gums prior to this age, please schedule an appointment. You may also want to bring your child to your dental checkup when they're about two so they can become familiar with the sights, sounds, and friendly helpers in our children's dental office. We call this a Happy Visit. Your child's independent checkup at age three will involve a tooth-by-tooth inspection and periodontal exam. The dentist will check for proper development, as well as tooth decay and other areas of concern.
As your child grows, they will need regular checkups and hygiene visits to ensure optimal oral health. Our team will also teach oral homecare techniques so that your child can learn how to effectively brush and floss, with your help at first, then on their own. The dentist may recommend dental sealants or fluoride supplements. Sealants are thin, clear coatings that protect hard-to-clean back teeth from the sugars that cause tooth decay.
Let us help your children learn the importance of optimal oral health from a young age. In some cases, we refer children to pedodontists, who are specialists in children's dentistry. We will help you make the best choices for your child's unique and precious personality.
Dental Sealants
Children are at a higher risk of developing cavities because they're still learning how to effectively brush and floss their teeth. To help keep their smile cavity-free and make brushing easier for them, we offer dental sealants, which are clear shields that we paint over the biting surface of their molars to keep food debris and plaque from accumulating in their grooves. The process is pain-free and fast, and it will help minimize the accumulation of harmful oral bacteria that can attack your little one's pearly whites.
Fluoride Treatments
Fluoride is a naturally occurring mineral that has been proven to strengthen the enamel of teeth, which is the outermost protective layer that guards them from cavities. Children who may not be receiving enough fluoride in their daily diet could be at a higher risk of decay. In these cases, we may suggest a fast and painless fluoride treatment at the end of their checkup and cleaning. It will help fortify their enamel and keep their grin healthy.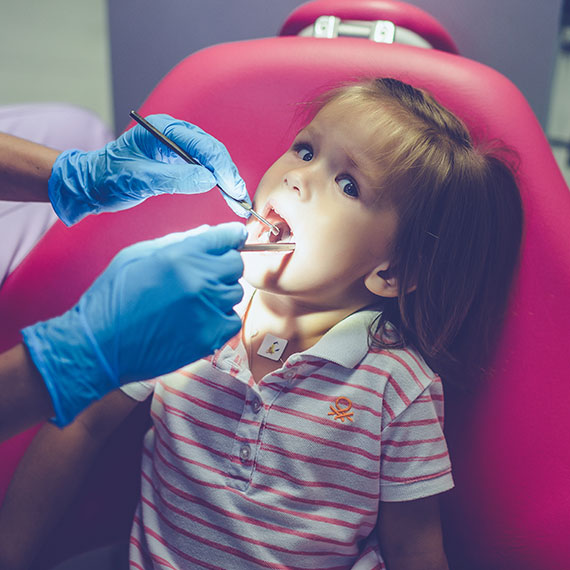 Tooth-Colored Fillings
Amalgam fillings are a treatment of the past. Children deserve to feel confident in their smiles, which is why we provide tooth-colored cavity fillings to prevent the spread of decay without highlighting the fact that they have a treated tooth. The composite resin material is biocompatible and safe for their grin as well, so you won't have to worry about them experiencing discomfort or sensitivity like they would with a metal filling.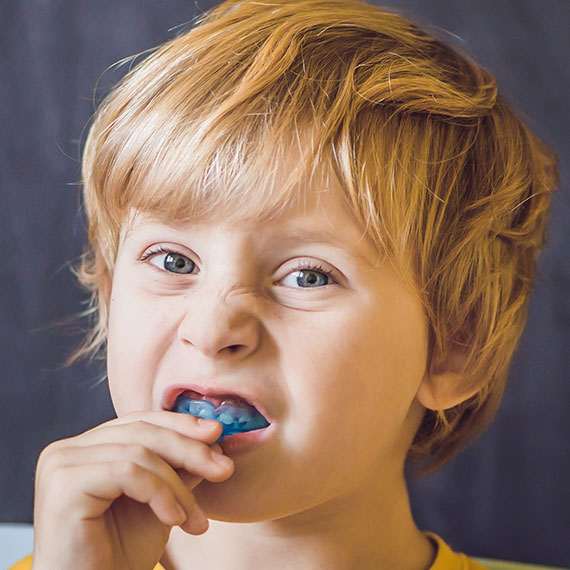 Athletic Mouthguards
Sports activities advance your overall wellness, but they can prove dangerous to your dental health if you aren't careful. Studies show that sports-related traumas represent 13 to 39 percent of all dental injuries. Mouthguards are acrylic oral appliances that fit over your teeth to help protect your smile, as well as your lips, tongue, face, and jaw.
Selecting a mouthguard should begin with reviewing your options, which include ready-made, mouth-formed, and custom mouthguards. Ready-made and mouth-formed mouthguards are available at drug and sports stores, but they can feel bulky and make speaking and breathing difficult. Constructed from impressions of your teeth, custom mouthguards conform to your dental shape and provide the best fit. We provide custom mouthguards for our athletic patients of all ages. Be sure to take good care of your mouthguard by periodically checking it for damage and rinsing it thoroughly after each use.